AS TO DISNEY ARTWORK, LOGOS, AND PROPERTIES: ©DISNEY
The author is Krista Connor, a Travel Advisor at Magic Family Getaways.
______________________________________
Get ready to set sail on the Disney Treasure, Disney Cruise Line's latest gem! Disney Cruise Line has "opened the treasure chest" and revealed some of the exciting new features on the Treasure.
Deck 4: The Grand Hall of Treasures
First impressions matter and that is why you board the Treasure entering at the Grand Hall – shining with golden accents and featuring a breathtaking Aladdin and Jasmine statue on a magic carpet. Besides being the central location for activities and entertainment, it serves as the ship's foremost focal point, igniting a sense of wonder and sparking curiosity throughout every voyage.
Upper Deck Adventure
The upper decks of the Disney Treasure will boast three distinct themed districts, each providing enjoyable water features, convenient and informal dining choices, as well as ample room for relaxation and basking in the sun.
Join Mickey and Minnie on the Disney Aqua Mouse for a thrilling journey through the temple of the GOLDEN EGG!
Young adventurers will delight in a Toy Story-themed water wonderland, perfect for families with little ones. This expansive deck area features the Toy Story Splash Zone, Trixie's Falls wading pool, Slide-a-Saurus Rex family waterslide, and Weezy's Freezies smoothie bar.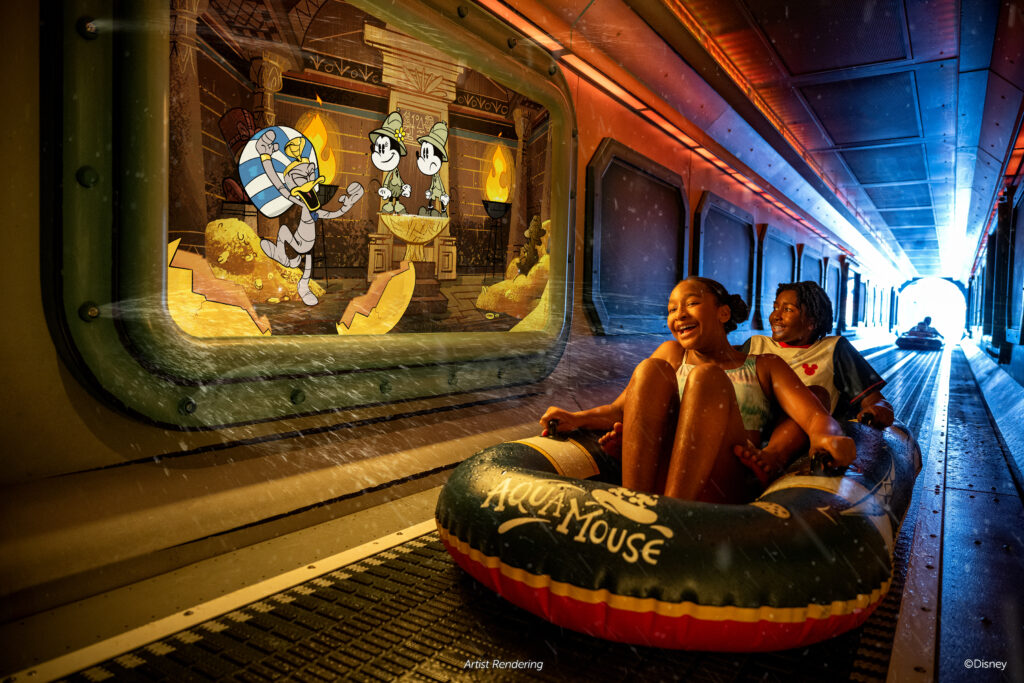 Entertainment Extravaganza at Sarabi
Disney Cruise Line is renowned for its unparalleled entertainment, and the Disney Treasure upholds this tradition. Named after the lioness matriarch from Disney's "The Lion King," Sarabi is your central hub for daytime family activities and exclusive adult evening entertainment. This two-story wonder evokes the natural beauty of the savanna and offers classics like "Match Your Mate" alongside new favorites like "Villains Game Night."
Broadway Magic at the Walt Disney Theatre
The Walt Disney Theatre, a magnificent show palace, will come to life with exclusive Broadway-style productions created solely for Disney Cruise Line by top-tier creative teams. Prepare to be dazzled by a brand-new Broadway-style show, which will be announced at a later date, alongside a sea-themed rendition of the beloved classic, Beauty and the Beast.
Lounges: Aboard the Treasure
The Treasure is not just about adventure; it's about relaxation too!
Unwind in style at Skipper Society, a lounge near the Grand Hall, offering the perfect setting for specialty cocktails in a Jungle Cruise-inspired ambiance.
Don't miss the unique Periscope Pub, the ship's first venue inspired by "20,000 Leagues Under the Sea." This thematically rich pub is an exclusive Treasure gem.
Staterooms: Luxurious Nostalgia
The Disney Treasure's staterooms blend state-of-the-art amenities with nostalgic charm. Most rooms feature private verandahs, allowing you to savor the gentle ocean breeze.
Elevate your experience with Concierge Suites, offering a private lounge and sun deck, complete with complimentary food and drinks.
There are also four Royal Suites, each a two-story deluxe haven inspired by characters like Bagheera and Raja.
For the grandest accommodation of all, book the Tomorrow Tower Suite, inspired by Epcot's boundless possibilities!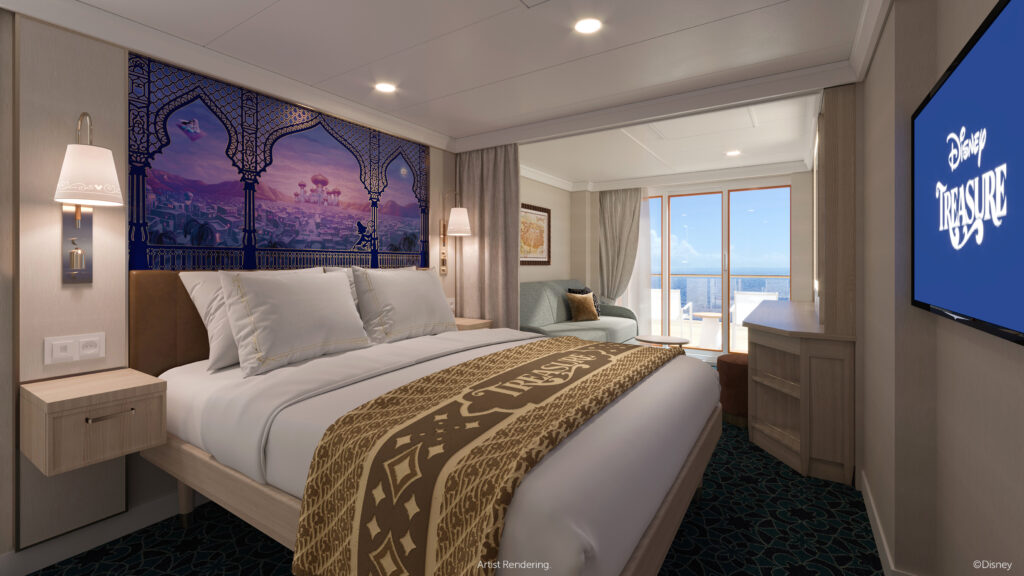 Spaces for Little Adventurers
Disney never forgets its younger guests. At the Oceaneer's Club, children can explore the Marvel Superhero Academy, Disney Imagineering Lab, and Fairytale Hall. Tweens and Teens have their dedicated spaces in Vibe and Edge. And, of course, Star Wars fans can transport themselves to a galaxy far, far away in the Star Wars Cargo Bay.
Culinary Delights
Feast your eyes and your taste buds on the dining options aboard the Disney Treasure:
Mickey & Friends Festival of Foods: This quick-service dining destination draws inspiration from the world of "Mickey Mouse" animated shorts, with five themed food stalls offering a variety of fan-favorite dishes.
Worlds of Marvel Restaurant: A fan-favorite from the Disney Wish, here you can enjoy Shawarma and partake in an interactive heroic adventure while you dine. Plus, there's a new Marvel experience coming your way!
Plaza de Coco Restaurant: Experience the world's first theatrical dining themed to Disney and Pixar's "Coco." Immerse yourself in the vibrant world of Miguel and his familia as they continue their journey with two nights of colorful, music-filled festivities.
Jade Cricket Café: Inspired by Disney's "Mulan," this cafe honors the Fa Family's "lucky" cricket, Cri-Kee, and celebrates Mulan's strength and heritage.
Craving some delectable treats? Look no further than Jumbo Sweets, inspired by Zootopia. Here, you can indulge in a delightful selection of ice cream, gelato, and sorbet – a true sweet paradise!
Disney Treasure Itineraries
Disney Treasure Maiden Voyage

7-Night Eastern Caribbean Cruise from Port Canaveral
2024 SAIL DATE: Dec 21
Tortola, British Virgin Islands, St. Thomas, U.S. Virgin Islands, Disney Castaway
7-Night Western Caribbean Cruise from Port Canaveral

2024 SAIL DATE: Dec 28
2025 SAIL DATES: Jan 11, 25 | Feb 8, 22 | Mar 8, 22 | Apr 5, 19 | May 3, 17
Cozumel, Mexico | George Town, Grand Cayman, Falmouth, Jamaica | Disney Castaway Cay, 2 days at sea
7-Night Eastern Caribbean Cruise from Port Canaveral

2025 SAIL DATES: Jan 18 | Feb 15 | Mar 1, 15 | Apr 12, 26 | May 10, 24
Tortola, British Virgin Islands, St. Thomas, U.S. Virgin Islands, Disney Castaway Cay, 3 days at sea

7-Night Eastern Caribbean Cruise from Port Canaveral

2025 SAIL DATES: Feb 1 | Mar 29
Tortola, British Virgin Islands, San Juan, Puerto Rico, Disney Castaway Cay, 3 days at sea
Early Booking for Disney Treasure Itineraries
Bookings open September 20, 2023 at 8:00 a.m. EDT. Castawayclub members, Disney Vacation Club® Members, Adventures by Disney® Insiders and Golden Oak members can take advantage of booking before these itineraries go on sale to the general public!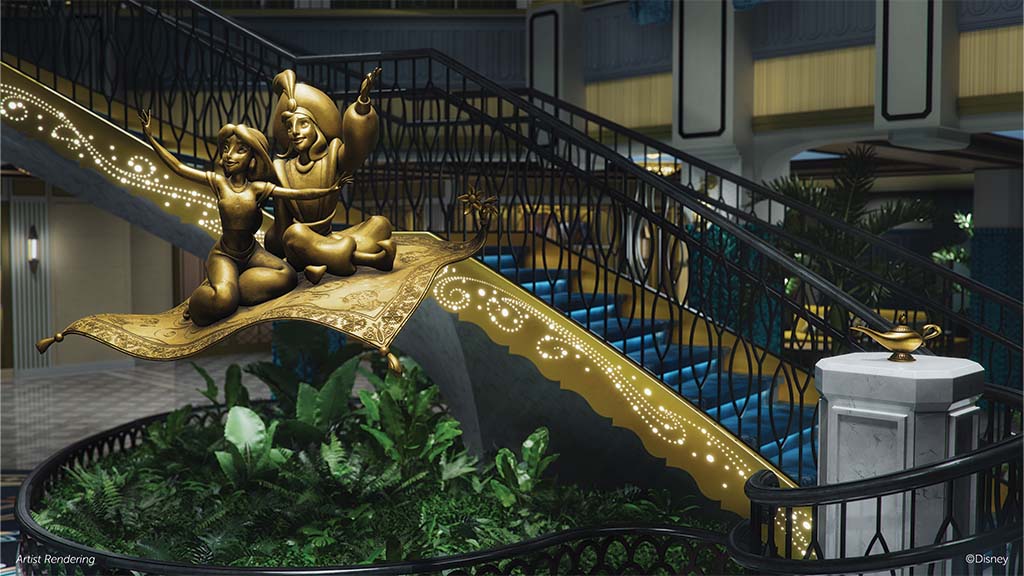 Treasure in Memories
"Remember, the true treasure lies not in riches or gold but in the memories you create on this extraordinary journey".
If you're ready to experience the Disney Treasure, contact us to join our list and be notified when bookings become available. Your next adventure awaits!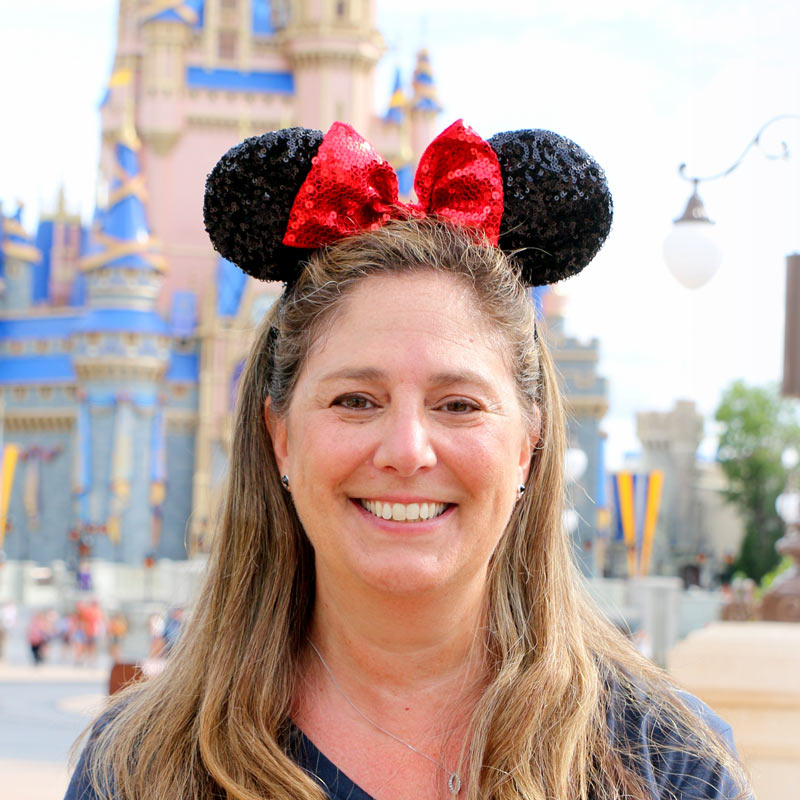 Krista Connor
Travel Consultant
Magic Family Getaways LLC
An Authorized Disney Vacation Planner
Phone (856) 979-3763
Fax +1 (973) 969-3010
Office Hours:
Monday through Saturday 9:00am – 5:00pm EST
Sunday & evening hours by appointment
Krista is a dedicated travel professional who holds a Bachelor of Arts in Communications from Rowan University. Her diverse career journey has equipped her with a wide range of skills, including event planning, marketing, and communications. With a passion for creating magical experiences, Krista has channeled her expertise into crafting unforgettable family vacations. Her portfolio includes orchestrating group trips, coordinating extended family getaways, and coordinating destination weddings and honeymoons.
Committed to staying current in her knowledge, Krista diligently pursues ongoing education in travel-related matters, ensuring that she remains a valuable resource to those she serves. She holds several certifications and is in the process of obtaining her Certified Travel Advisors status.
Residing in Marlton, New Jersey, Krista enjoys traveling with her husband, and their delightful daughter. Beyond her professional pursuits, Krista enjoys indulging her creative side through crafting. You'll often find her crafting personalized Disney Tee shirts and adorable Mickey ears for her circle of friends and loved ones, adding an extra touch of magic to their lives.
At Magic Family Getaways, advisors plan and design unforgettable vacation experiences for families who want the confidence that every step is handled. Its team of expert advisors can save you time and money and attend to the smallest detail so you can focus on creating memories that last a lifetime.