AS TO DISNEY ARTWORK, LOGOS, AND PROPERTIES: ©DISNEY
©Marvel 2021
This story is by Shaun Knight, a Travel Advisor at Magic Family Getaways.
Want to know more about Disneyland Resort and visit the Avengers Campus? Take a moment to read Shaun's top 5 countdown! Contact him by clicking here or below to book or learn more about Disneyland vacation!
______________________________________
In March of 2018, Disney – to much fanfare – announced that an all-new Marvel-themed land would be coming to the Disneyland Resort in Anaheim, CA in 2020. After an 11-month delay due to the pandemic, the highly-anticipated new land finally opened to the public in June of 2021. Billed as the first-ever Marvel-based land built by Disney anywhere in the world, Avengers Campus is a 4-acre land nestled in the heart of Disney's California Adventure Park, located on the former site of A Bug's Land.
Despite opening just over 3 months ago, many in the Disney fandom have not yet had the chance to visit this brand new, energy-filled land at the Disneyland Resort. Fortunately, I was able to visit the land for the first time a few weeks ago, & got to spend 3 days exploring, riding, eating, & seeing everything the area had to offer. Let's discuss the Top 5 things this movie blockbuster-turned-theme park land has to offer!
Number 5: The Rides
Avengers Campus opened it's doors featuring 2 rides – the brand new WEB Slingers: A Spider-Man Adventure (or WEB, for short), and Guardians of the Galaxy – Mission: BREAKOUT! (or Mission Breakout, for short). Mission Breakout originally opened in May of 2017 as a re-theme of the former Twilight Zone: Tower of Terror, and has instantly become a beloved fan-favorite in the park. However, since the ride has already been open for over 4 years, most of the attention was focused on WEB upon land opening. Without attempting to spoil too much, WEB is a fantastic attraction. Peter Parker (reprised by Tom Holland) is hosting an open house to allow guests to suit-up like Spider-Man. Unfortunately, everything goes awry when Spider-Bots start replicating out of control! It is up to us to help Spidey stop the bots & save Avengers Campus. WEB is a shooter-based dark ride that is similar to Toy Story Midway Mania, but much more high-tech – using 3D glasses & thousands of motion-capture sensors, you fling your very own web's to help capture the Spider-Bots, just using your very own wrists! WEB is a great fit for the whole family & will certainly capture the hearts of any Spider-Man loving kid (or adult!) in the family.
Number 4: The Food
One of the main draws to the entire Avengers Campus is Pym's Test Kitchen & Tasting Lab – a quick-service restaurant & microbrewery featuring uniquely-themed food & drink that has been "specialized" using Pym Technology from the Ant-Man films. The main draw's here are the Not-So-Little Chicken Sandwich (featuring enlarged chicken & tiny bread) & the Quantum Pretzel (it's a gigantic pretzel….), both of which tasted great. For the adult superheroes, Pym's Tasting Lab features a huge selection of locally-brewed adult beverages, served in special containers. The real draw, however, is the theming – Pym's Test Kitchen is BEAUTIFUL. It has great touches of theming inside & out, and is a great homage to the former A Bug's Land at the same time. Another great addition to the land's culinary lineup is Schawarma Palace – a great homage to the Avengers movie featuring New York's Tastiest Schawarma. Once your tummy starts grumbling after all your hard work helping Spider-Man on WEB, you'll be ready to eat all the over-sized food & Avengers treats your stomach can handle at Pym's & Schawarma Palace!
Number 3: The Characters
One of the best aspects to the entire land is the roaming characters. Everywhere you look & every corner you turn, a brand new superhero pops up to greet you or take a photo. We spent over 10 hours combined at the land during our trip, & we still felt like we didn't get to see every character that was available. Not only do these roaming superheroes make the land feel vibrant & alive, it also makes you the guest feel apart of the action! Not to mention the fantastic photo-ops for the little superheroes in your party, too. Whether you're a die-hard fan of the Marvel Cinematic Universe or just a casual theme park fan who enjoys character meet-n-greets, the characters of Avengers Campus are one of the coolest aspects to any land at the entire resort.
Number 2: The Shows
Probably the most impressive aspect to the land, there are a total of 5 shows to experience while enjoying your time at Avengers Campus. These 5 are: Guardians of the Galaxy: Awesome Dance Off!, The Amazing Spider-Man!, Avengers Assemble!, Dr. Strange: Mysteries of the Mystic Arts, & Warriors of Wakanda: The Disciplines of the Dora Milaje.
All 5 shows are honestly incredible & worth your time, but the Dr. Strange, Spider-Man, & Dora Milaje shows are especially impressive. All 3 of these performances are enjoyable for the entire family, & really make you feel like you're in the middle of the Avengers action. There are multiple show-times throughout the day for each one, so the action can pop up around you at any time!
Number 1: The Ambiance
Easily the highlight of the entire land for my family & I, the ambiance of Avengers Campus – especially at night – is breathtakingly gorgeous. Despite having a smaller plot of land to work with, Disney's Imagineers absolutely knocked it out of the park (no pun intended) in their construction of this land. While the rides, shows, characters, & food are all fantastic, the crown jewel of this brand new land is just immersing yourself in the world around you – from the colors, the forced perspective, the landscapes, the size of the buildings – it's all a true piece of art no matter how you look at it. The highlight of the ambiance comes at dusk. As the sun sets & the lights turn on, Avengers Campus takes on an entirely new look, & is legitimately one of the most beautiful places to be in any theme park in the world.
While not without its flaws, Avengers Campus is an incredible addition to an already-beautiful theme park in Disney's California Adventure. As the land currently exists, it's an energy-filled, action-packed, vibrant piece of Imagineering that's going to bring something to the table for all ages & interests. And with Disney's track record of expansion & growth, the future is extremely bright for this brand new land.
Take a minute to watch this video, the Avengers Campus is just amazing!!
©Marvel 2021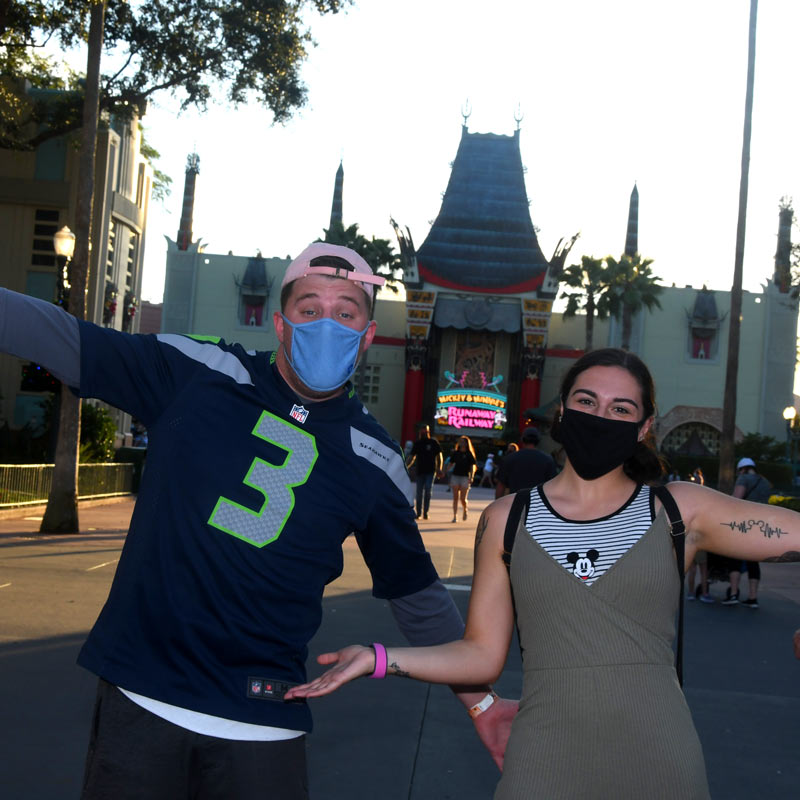 Shaun Knight
Travel Consultant
Magic Family Getaways LLC
An Authorized Disney Vacation Planner
MagicFamilyGetaways.com
Phone +1 (253) 332-3190
Fax +1 (973) 969-3010
Office Hours: 
Monday through Saturday 9:00am – 7:00pm PST
Sunday & evening hours by appointment
Shaun became a travel advisor after 4+ years in the banking industry. He is a self-proclaimed travel extraordinaire, although his go-to destinations are Orlando & Southern California. Shaun met his wife at Disneyland Resort in 2018 while they were both on solo trips to the park. He told her he loved for the first time in front of Sleeping Beauty Castle 4 months later & proposed to her in front of the Rivers of America 3 months after that.
When he is not actively planning a future Disney trip for himself or his clients, Shaun spends his time making Disney ranking videos for his YouTube channel, interacting with the theme park community on Twitter, & playing basketball. He is dedicated to using his vast knowledge & experience with the resorts on both coasts to give you the Most Magical Vacation Ever!
Shaun has a Bachelors Degree from Washington State University (Go Cougs!). He has spent his entire life living up & down the west coast, from Seattle to San Diego, & currently resides in Seattle with his wife & puppy.
At Magic Family Getaways, advisors plan and design unforgettable vacation experiences for families who want the confidence that every step is handled. Its team of expert advisors can save you time and money and attend to the smallest detail so you can focus on creating memories that last a lifetime.