AS TO DISNEY ARTWORK, LOGOS, AND PROPERTIES: ©DISNEY
This story is by Andrea Lawson, a Travel Advisor at Magic Family Getaways. She truly knows how to add in a touch of magic to her clients vacation while understanding the nuances of each and every family's specific requests.
Andrea is a professional photographer. She has so much to share about Disney's PhotoPass service with Memory Maker and why its the so important to add to your vacation package. If you have specific questions about Disney's PhotoPass, Andrea will be happy to assit!
_____________________________________
You are on a Disney trip of a lifetime, how are you going to remember it? Disney's PhotoPass Service along with Memory Maker will do just that!
As a photographer myself, I know the importance of capturing a moment via photographs. Family vacations (to Disney especially) are extremely important to my husband and I, but if it was not for Disney's photography service, PhotoPass, my daughter would think she only went on trips with her dad since I am the one always taking the photos. Thanks to PhotoPass, I get to be in all of the photos too! Let me explain some more!
If you have been to Walt Disney World, you have seen the PhotoPass Photographers lining Main Street USA, Hollywood Blvd, in front of The Tree of Life, surrounding the Epcot ball, and all over the parks! Have you utilized their services?
Disney offers so many ways to get great photos with everyone in your travel party in them! There are PhotoPass photographers positioned all over the parks, in some resorts, at special events, character meet and greets, and even dinner shows! If you are on Disney property, you can open your My Disney Experience App, click on the second icon from the left on the bottom (the location icon) and it will pull up a map. If you click on the top drop down menu and select PhotoPass, it will show you where there are currently PhotoPass photographers in the park ready and willing to take you photo!
Using your MagicBand, your Key to The World Card or your smart phone using MagicMobile, you can link all of your PhotoPass photos straight to your My Disney Experience Account. If you purchase Memory Maker (ask your travel advisor for details), you can unlimited digital downloads of all of your PhotoPass photos taken during your trip, whether it is one day or 10 days. Memory Maker is available to purchase for one day or as a base cost for your entire trip. Photos are typically linked within minutes but photos may take up to 72 hours to load to your account. With the Memory Maker purchase, you have 30 days to download the photos based on the day they were taken.
There are also a few fun options that you can utilize PhotoPass for! If you are in the parks, some photographers have the ability to create "magic shots". They may ask you to hold out your hand or point to the sky. When your photos load into your My Disney Experience account, you may be pointing at Figment or holding Tinkerbell! Also, if you are by the CoOp Marketpalce in Disney Springs, you may see a Disney PhotoPass storefront. Go in!! They will pose you in front of a green screen and you will end up in places you never could have imagined. You can also get great typical photo studio portraits of you and your family! All of the downloads are included with Memory Maker!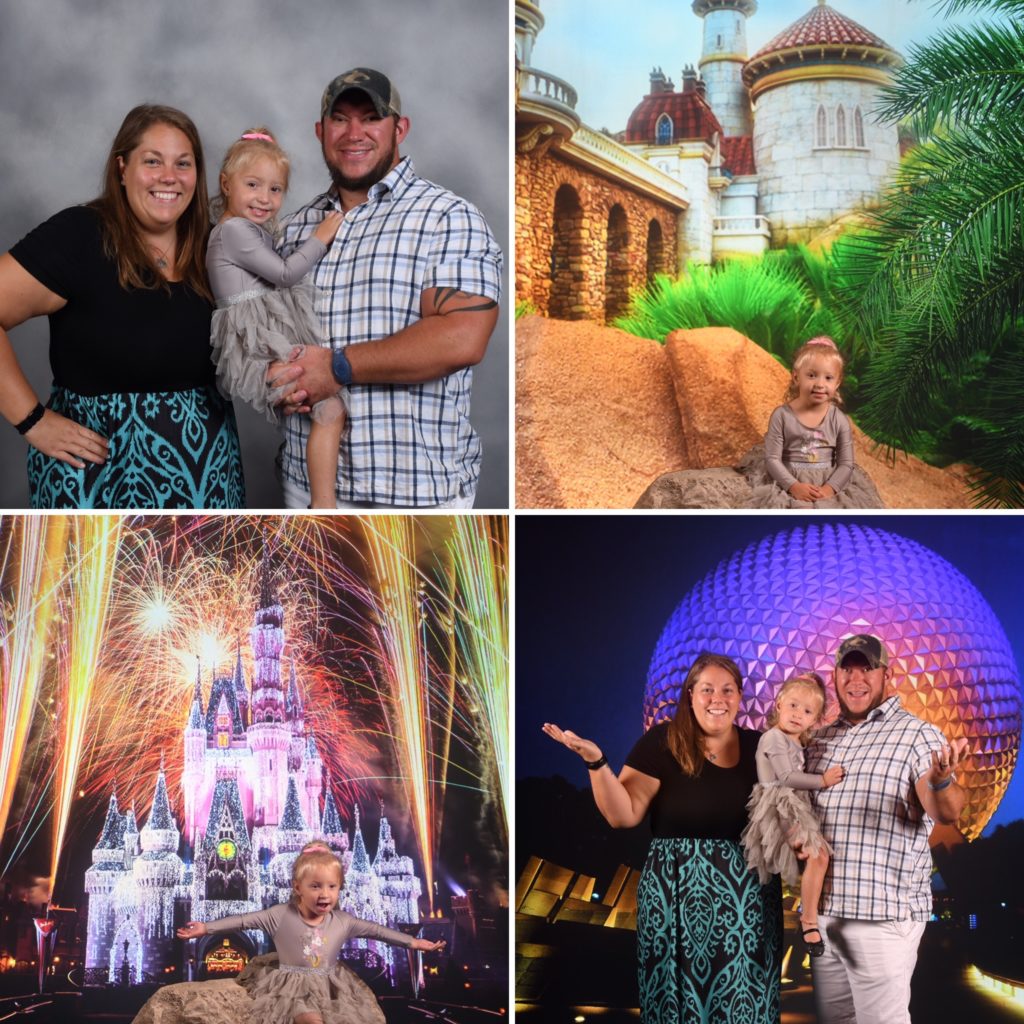 Another great option for photos at Disney is the Capture Your Moment Photo Session available in The Magic Kingdom at Walt Disney World. For $50, you get 2 photographers and 20 minutes to get great photos in Magic Kingdom. The photographers will take you to places where there are not a lot of people and where there are great views of the castle, Main Street or even different decorations at different times of the year. We did a session in November to get photos for our Christmas cards. In the 20 minutes, I got over 100 photos in my My Disney Experience App to download with my Memory Maker. Capture Your Moment photo sessions are bookable online by everyone 60 days prior to your visit. Spots fill up fast so plan ahead!
The PhotoPass magic does not end when you get home. Like I said, you have 30 days to download the photos, however you can also order custom photo gifts from mugs to ornaments to phone cases! You can also purchase a download extension if you cannot download all of your photos in time.
There are three pricing options for Memory Maker. Memory Maker One Day is $69 and allows you to download all of your photos and videos taken by Disney PhotoPass photographers on a specific day. Memory Maker Advance Purchase is $169 and includes all of your photos and videos from your vacation taken by Disney PhotoPass photographers for your entire trip. If you do not purchase in advance, Memory Maker at the Parks is $199 and includes all of your photos and videos from your vacation. May be used upon purchase.
For your next trip to the most magical place on Earth, make sure you ask your travel advisor to add Memory Maker at least 3 days before you go to ensure those memories last a lifetime!
Andrea Lawson
Travel Consultant
Magic Family Getaways LLC
Facebook: https://www.facebook.com/MagicFamilyGetawaysAL
Phone +1 (330) 998-4659
Fax +1 (973) 969-3010
Andrea has loved everything about Disney since she planned her honeymoon to Walt Disney World Resort in 2014. During their first trip (and every trip since!) they fell in love with the restaurants and food in Disney. They enjoy trying new places in the parks as well as the resorts. She has been to Disney during the Epcot Food and Wine Festival and the Epcot Flower Show, which were both great experiences! She is passionate about planning Disney vacations that include detailed memorable moments for kids and adults alike. Andrea's extensive Disney knowledge will guarantee a customized itinerary to fit every person's expectations.
Andrea earned her BA in Interior Design and minored in Marketing at Kent State University. After years of working as a project manager for a large retail corporation, she understands that the importance of customer service and attention to detail is the key to her vacation planning.
Andrea resides in Akron Ohio with her husband and little girl, Lily. Lily made her first trip to Disney at 16 months old and loved every second.
At Magic Family Getaways, advisors plan and design unforgettable vacation experiences for families who want the confidence that every step is handled. Its team of expert advisors can save you time and money and attend to the smallest detail so you can focus on creating memories that last a lifetime.