AS TO DISNEY ARTWORK, LOGOS, AND PROPERTIES: ©DISNEY
This story is by Andrea Lawson, a Travel Advisor at Magic Family Getaways.
Andra is so passionate about sharing her Walt Disney World expertise with her clients! She truly knows how to add in a touch of magic to her clients vacation while understanding the nuances of each and every family's specific requests. Her clients truly just sit back, relax and enjoy a memorable vacation planned by Andrea.
Andrea has had the opportunity to experience VIP tours at Walt Disney World Resort. She loves sharing the the true meaning of what is to experience one of these most special tours as well as the perks and benefits! If you are considering a vip tour or have questions about one, Andrea will be happy to assit.
_____________________________________
Is a VIP tour at Walt Disney World Resort on your Disney bucket list? 
Have you ever seen the groups of people in Disney Parks being led around by a Disney Cast Member dressed in plaid? Did you ever wonder what those groups are? These groups are private Disney VIP tours. These VIP tours are exclusive, come with so many benefits and can be reserved by anyone! 
The Stress of Planning Your Day Goes Away!
For a typical Disney day, you are planning months in advance of what rides you are going to ride (pre-Covid with Fastpasses) and where you are going to eat and making those reservations. With the Disney VIP tour, you do not even have to worry about wait times! You stroll along the park taking everything in because the guide is doing all of the work for you! However, if you want to take the time to do a sit down meal during your allotted time frame, you still have to make those reservations in advance. The guide cannot make room in a restaurant appear.

Fastpass Access to All Attractions (except Rise of The Resistance in Star Wars Galaxy's Edge)
With a VIP tour, you get FastPass or backstage access to any attraction as many times as you want. Your VIP Tour Guide will act as your Fastpass. The guide enters the queue of the ride and tells the cast member how many people are in your party. They walk you through the line of most attractions and then they wait for you at the end of the ride. If you love it, you can hop right back on! 

Private Transportation between Parks
Private van transportation between parks is a HUGE perk of the VIP tour! You will not be wasting time waiting on buses or a ferry. When you are ready to change parks, you walk backstage to a private parking area and get into a van. Instant air conditioning, car seats and fast transportation. The vans park in backstage areas so once you get to the next park, you walk through a gate and you are already in the park and walking to the next attraction! No security, no scanning tickets, instant access to the park! 

There is a guide to match every family! 
I've had two different guides and the experiences were completely different. Our first guide was very professional and to the point. He reviewed our plans with us, walked us to the rides and met us at the end. He ate in cast member areas and we texted him when we were done with meals. Our second guide we had for 2 different days was full of energy and fit in with our group right away. She interacted with our children, ate snacks and had coffee with us and even moved our stroller for us to maximize our time with her. Both guides were knowledgeable, professional, and provided a wonderful experience, but they were very different.

Cost
For VIP tours, Disney charges between $425-$750 per hour, for a minimum of seven continuous hours, with a maximum of 10 guests. All guests must have valid park admission and infants are included in the guest count. A park hopper ticket is required (if you wish to visit more than one park in your 7 hours) and gratuity. Gratuity is not required, but it is customary to tip your guide 1 hours' worth of the tour.

Pack you best walking shoes!!
The VIP Tours make a very long day! You are either walking to a ride or on a ride (besides the time spent sitting for meals or going from park to park). You day is packed full to make the most out of the tour. It was fund to walk and see everything but we took a break after the tour was over.
I have had the pleasure of going on 3 private VIP tours within the past year. When working with me to plan your Walt Disney World vacation and VIP tour, I will work with you to ensure you hit every must-do attraction, make the most out of your time with the guide, request a guide that will fit in with your group and have the most magical time!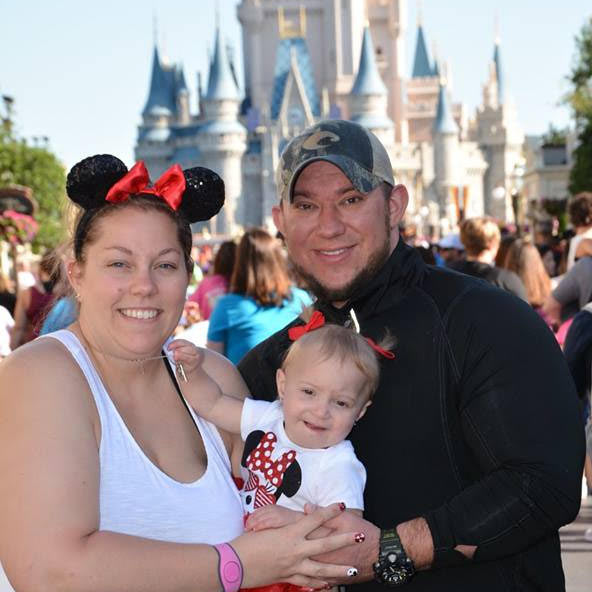 Andrea Lawson
Travel Consultant
Magic Family Getaways LLC
Facebook: https://www.facebook.com/MagicFamilyGetawaysAL
Phone +1 (330) 998-4659
Fax +1 (973) 969-3010
Andrea has loved everything about Disney since she planned her honeymoon to Walt Disney World Resort in 2014. During their first trip (and every trip since!) they fell in love with the restaurants and food in Disney.  They enjoy trying new places in the parks as well as the resorts. She has been to Disney during the Epcot Food and Wine Festival and the Epcot Flower Show, which were both great experiences! She is passionate about planning Disney vacations that include detailed memorable moments for kids and adults alike. Andrea's extensive Disney knowledge will guarantee a customized itinerary to fit every person's expectations.
Andrea earned her BA in Interior Design and minored in Marketing at Kent State University. After years of working as a project manager for a large retail corporation, she understands that the importance of customer service and attention to detail is the key to her vacation planning.
Andrea resides in Akron Ohio with her husband and little girl, Lily. Lily made her first trip to Disney at 16 months old and loved every second.
At Magic Family Getaways, advisors plan and design unforgettable vacation experiences for families who want the confidence that every step is handled. Its team of expert advisors can save you time and money and attend to the smallest detail so you can focus on creating memories that last a lifetime.