This story is by Ann Forstenzer, a Travel Advisor at Magic Family Getaways. She visited Costa Rica last year and we are thrilled to share her wonderful experience!
_____________________________________
Do you need a break from the chaos? Have you been itching to find a great destination where you can kick back, enjoy quality family time or just adventure on your own? If so, politically safe Costa Rica may be just the antidote!
Of course, every country has its own protocols for visitors right now. As of this writing, the CDC requires anyone re-entering the US to present a negative Covid test and travel insurance. Some countries also require negative testing and the purchase of insurance prior to entry, so it's best to check the CDC website for up to the minute information. If you're looking to get away, I highly recommend a visit to this beautiful country.
Eligible U.S. residents traveling to Costa Rica (view link to Costa Rica approved U.S. states currently allowed into Costa Rica https://www.visitcostarica.com/en/costa-rica/planning-your-trip/entry-requirements) must secure and show proof of an active travel insurance program, which includes:
$50,000 USD of Medical Expense Coverage
$2,000 USD Accommodation/Lodging Coverage
I'd read a bit about the Blue Zones (there are only a handful of these special areas in the world) where the inhabitants are found to age well beyond the worldwide norm. There are even cookbooks with "blue zone" recipes—using only natural ingredients. The simple life, or "pura vida", as Ticos and Ticas (Costa Rican men and women) call it, intrigued me, as well as the country's pledge for sustainability and their eco-friendly commitment to reduce the carbon footprint. We wanted to try zip lining, see sloths, observe rare birds and other animals in their native habitats, walk on bridges high above the cloud forests, and more. In other words, leave the U.S. behind to experience something totally new and different.
Even though we agreed on the destination, my tired husband still wanted a beach and a nice pool. My son wanted air conditioning and access to wifi. Sound familiar? That's why it takes some planning and a good travel agent to help you make the most of your time.
We opted for the Guanacaste province, on the Pacific. The weather in January is warm and sunny, and there are many wonderful hotel and lodging options, not to mention loads of things to see and do. It was perfect and doable for our one week of vacation.
Costa Rica sits between the Pacific Ocean and the Caribbean Sea. From the East Coast, one can easily fly into San Jose, its capital, or Liberia on the west coast. What you'll find are friendly people, a country rich in biodiversity, a lot of roads that don't have street signs, and a Spanish speaking population. The first thing I booked was an air- conditioned van with an English- speaking driver. He happily picked us up at the airport and whisked us off to our hotel, all the while, pointing out various sites along the way and some very loud howler monkeys taking their mid-afternoon siesta among the trees during one of our stops. You can of course rent a car. We just opted for a more practical approach.
Guanacaste province is cattle ranch country. It's arid, beachy and the weather in January was sunny and warm. The nearby town of Tamarindo, with its wonderful restaurants, shops and surfing beaches was also alluring.
Surf lessons? Sure. Why not?
Early on, we made the decision to skip a visit to the Arenal volcano and the town of La Fortuna, though we had wanted to experience the thermal pools and cloud forest. The drive would have been long and bumpy—too long for one day—even though some folks do it. Instead, we opted to return on another trip for those experiences.
During a cooking class at the hotel, we learned how to make Gallo Pinto, an easy dish made of rice, beans, onions, peppers and cilantro. Then, with full bellies, we headed for the pool. On another afternoon, we zip-lined our way through a nature park. We hired an English-speaking tour guide for one full day to help us explore the area in greater detail and it was the highlight of our trip. Seeing beautiful butterflies the size of my hand, visiting sparkling waterfalls, learning how coffee beans and bananas are cultivated and harvested, and my favorite, seeing three-toed sloths with their green tinted fur, eating their way through eucalyptus trees as they hung from the branches in slow motion (Eucalyptus leaves are the only food they eat.) made it all the more special.
In our short time, we really did a lot. Costa Rica is a country rich in complexity. There are rain forests and mountains– all worth exploring. We only visited one region. But to do the country justice, we'll return. Our family needed time to relax and rejuvenate, to read, eat and enjoy each other's company. Will you be planning a trip any time soon? If you do, definitely put Costa Rica on your bucket list!
Here are five useful tips:
1. Make sure your passports are up to date, extending at least six months beyond the time you'll be staying in the country. And be sure to have the appropriate travel insurance to enter.
2. Bring bug spray and suntan lotion.
3. Decide if you want an active, passive or somewhere in between-ish vacation.
4. If you don't speak Spanish, consider hiring an English-speaking guide for a day or longer.
5. If you plan on renting a car, check if you will need an international driver's license and/or need different insurance.
Contact Ann to plan your vacation or learn more about traveling to Costa Rica!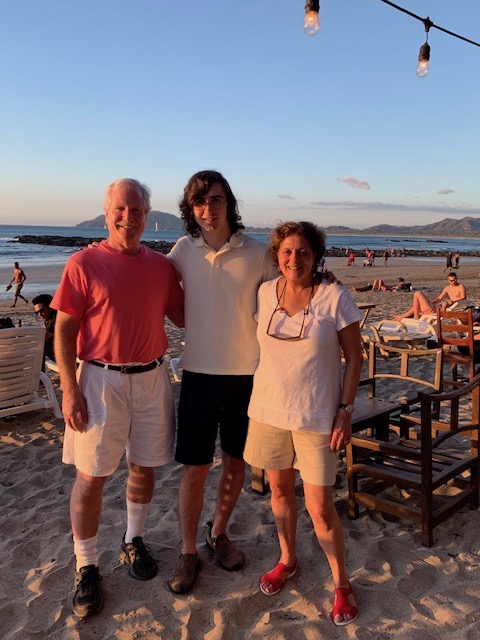 Ann Forstenzer
Travel Consultant
Magic Family Getaways LLC
An Authorized Disney Vacation Planner
Facebook: https://www.facebook.com/MagicFamilyGetawaysAnn
Phone +1 (973) 744-2835
Fax +1 (973) 744-2836
Ann Forstenzer is a travel advisor at Magic Family Getaways, Ann lives in northern New Jersey with her family. She holds a Professional Diploma in Travel and Tourism from New York University, and a B.A. degree in Political Science from the University of Rochester. She continues to work as a publishing professional, with a 20-year background in the sales and marketing of children's books. But family travel is and always has been her passion. She encourages parents to make sure their kids read about the destinations they will be visiting, and to allow them to have a say in some part of the planning. At Magic Family Getaways, advisors plan and design unforgettable vacation experiences for families who want the confidence that every step is handled. Its team of expert advisors can save you time and money and attend to the smallest detail so you can focus on creating memories that last a lifetime.