Last month Meridith, a travel advisor from our team, had the opportunity to visit Aulani, a Disney Resort & Spa, to experience the phased reopening in person. She had a wonderful time and was genuinely impressed with everything she saw and how Aulani is following all the new safety guidelines put in place!
_____________________________________
First, the Hawaii State website is easy to follow to learn all of the travel requirements to enter Hawaii. It lays out which Covid test is required, and how many days prior to travel you can take the Covid test.
https://www.gohawaii.com/travel-requirements
Once I had negative test results, I was ok to travel!
Upon arrival, we were the only tourist in the terminal area disembarking that I saw. We were guided around to a check point where we needed our IDs and QR codes from the required paperwork for Hawaii. It took about 10 mins to get through the check point and to baggage claim!
Now the fun part of the trip – Aulani! I made arrangements to take the Hele Hele Shuttle from the airport to the resort. The shuttle was calling to let me know where to meet them since I arrived at least 30 mins early. Due to Covid precautions, I had the entire shuttle to myself! I completed the online check in prior to arrival at the resort. Since I chose to do the online check in, I was directed to a kiosk upon entry into the resort rather than the main front desk. Here, they checked my Covid test again to make sure that I did not need to quarantine in my room.
The view from my room….!!
This was my first time at Aulani. The resort is absolutely breath taking! I stayed in an ocean view room and it was worth it. Even though the resort opened just a couple of weeks prior to my arrival, all the pools were open. The adults only pool is open to ALL guest at this time to help with social distancing. There are limited chairs on the pool deck to allow adequate space and they are fixed in place to keep guest from moving them to close to other parties. Similar arrangements are made on the beach with the chairs as well. Aulani is still providing complementary beach equipment. There is also an options to rent snorkel sets or stand up paddle boards for an additional cost.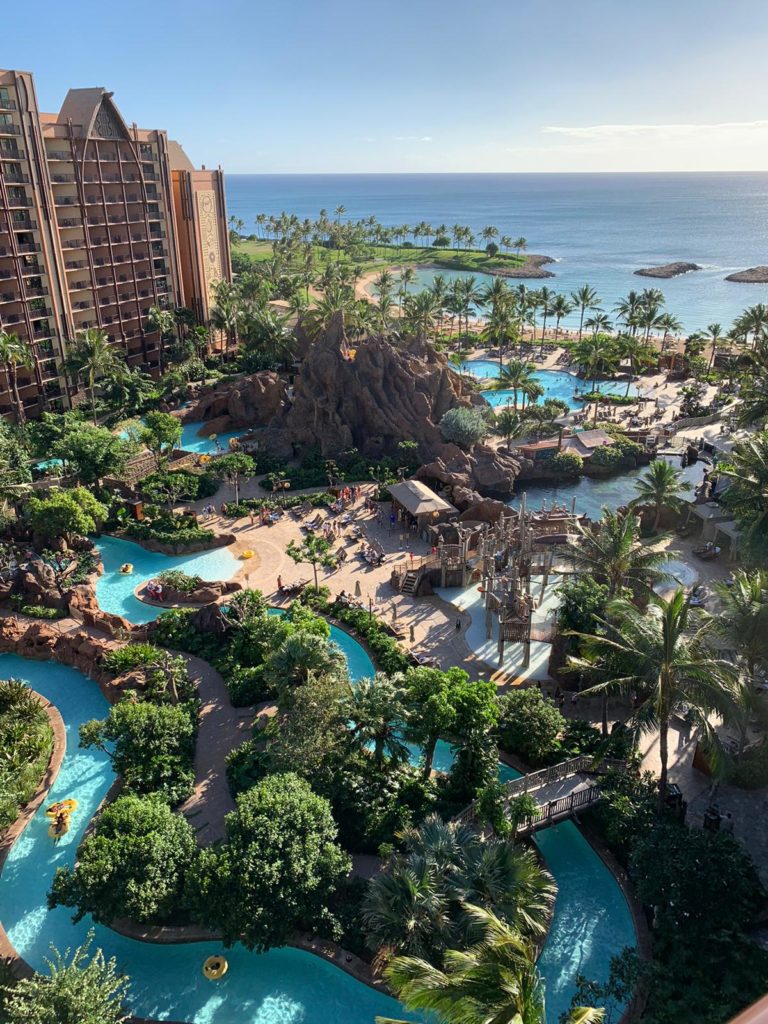 Safety Protocols.
They had multiple signs posted throughout the resort reminding you to socially distance and reminded you to wear face coverings. They were also plenty of hand sanitizer stations throughout the resort. Elevators were limited to one party or four individual people as well.
Overall, Aulani is doing an amazing job with COVID-19 safety measures. Despite the current restrictions in place in Hawaii and necessary to limit the spread of the illness, this resort was everything you come to expect from Disney and was a magical and restful vacation. I look forward to returning in the future to experience everything the resort has to offer as the phased reopening allows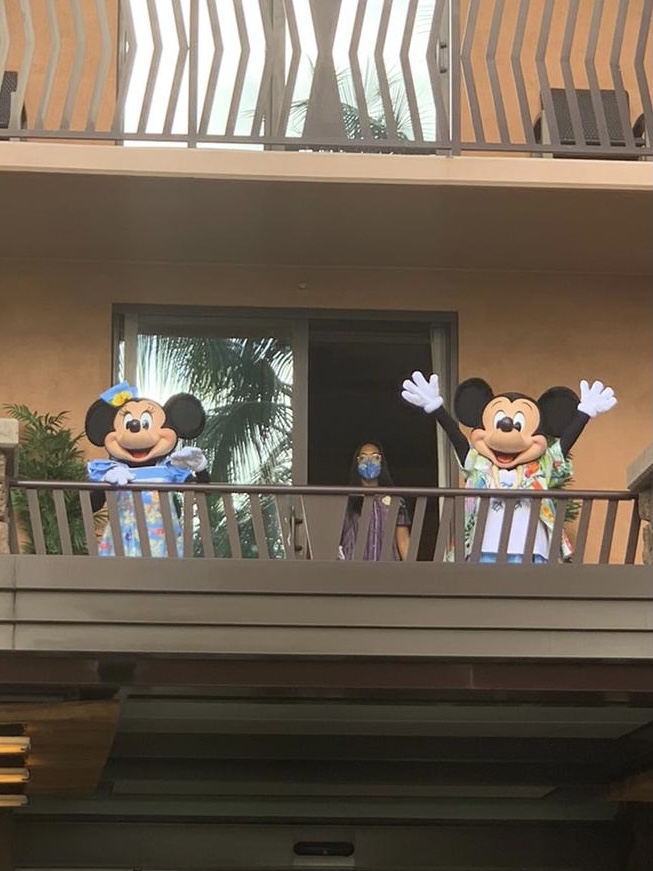 Meals!
At this time, the restaurants are limited to resort guests only. There were limited options, but more have even opened since I left. Ulu Cafe is open for quick service from 6:30 am to 8:30 pm. You place your order at the counter, grab any pre packaged treats or drinks you may want, then pay at the registers. After payment you wait outside for your food.
Off the Hook is open from 11:00 am to 8:30 pm. You can choose to eat at the restaurant, order from the restaurant to go, or order pool side or beach side. If you eat at the restaurant, they will take your temperature before seating you at a table. The last restaurant I tried was The 'Olelo Room! It is open from 5:00 pm to 10:00 pm. They were seating you on a first come first serve basis. If no seats were available, you could put you name on the list and they would call you when your table was ready. Tables were socially distanced and following guidelines put in place by Hawaii, which only allows up to 5 people at a table. If you travel with a larger group you will be split into 2 tables. Again, they will take your temperature before seating you at your table. You can access all menus from a QR code when you enter the restaurants or they will give you a paper menu. Mama's Snack Shop and Papalua Shaved Ice were also open during the day for a short period for snack! The Mickey shaved ice is a Must!
Experience the beauty, tranquility and Hawaiian culture at this beautiful resort!
Contact Meridith to plan your next vacation!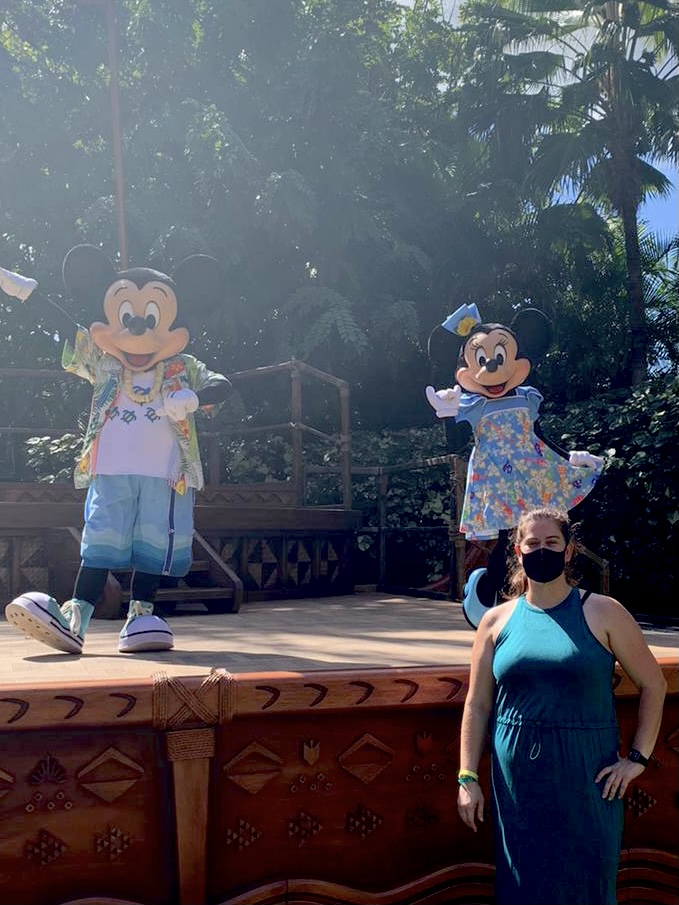 Meridith Dannenbaum
Travel Consultant
Magic Family Getaways LLC
An Authorized Disney Vacation Planner
www.MagicFamilyGetaways.com
Facebook: Magic Family Getaways – Meridith Dannenbaum
Phone +1 (210) 787-9501
Fax +1 (973) 969-3010
Meridith Dannenbaurm is a travel advisor at Magic Family Getaways, Meridith has a Bachelor of Science in Education from Texas A&M. She is married to her husband Joe and they have 4 kids. They have lived in Oklahoma, Texas, Massachusetts, Tennessee, and currently reside in Washington. At Magic Family Getaways, advisors plan and design unforgettable vacation experiences for families who want the confidence that every step is handled. Its team of expert advisors can save you time and money and attend to the smallest detail so you can focus on creating memories that last a lifetime.