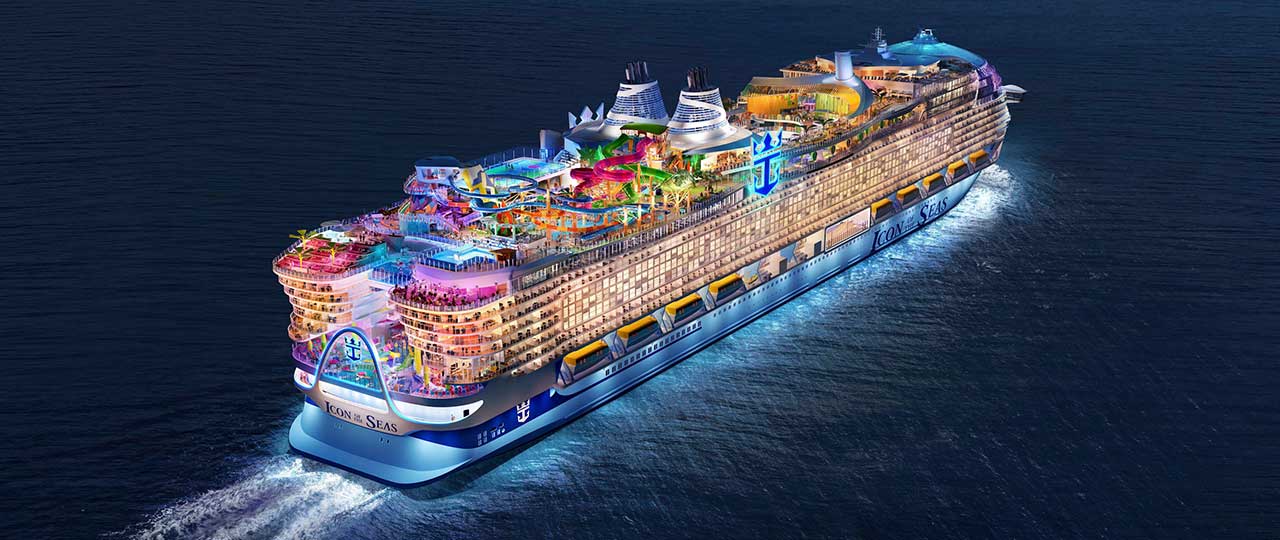 When it comes to pioneering first at sea, there's only one rule: anything is possible.  Royal Caribbean pushes the limits of imagination to extend expectations each and every time you sail with them.  It's these incredible experiences that build lifelong memories.
Let's look at some of the innovations the Icon will include:
Sustainable Innovation:
One of the most remarkable aspects of the Icon of the Seas is its commitment to environmental sustainability. Equipped with state-of-the-art propulsion technology and powered by clean energy sources, this ship exemplifies Royal Caribbean's dedication to preserving the oceans and the destinations they visit.
Stunning Design:
The ship's architecture is a work of art, seamlessly blending futuristic elements with classic nautical aesthetics. From the sleek exterior to the luxurious interior spaces, every corner reflects meticulous attention to detail.
Ultimate Entertainment – From Water to Ice:
Icon of the Seas boasts a myriad of entertainment options that cater to all ages. The cutting-edge theaters like the Aqua dome offering a combination of diving and acrobatic performances and Absolute Zero where talent performs bold feats on the ice. In addition there are immersive virtual reality experiences, and other live performances promise to keep guests engaged and enthralled throughout their journey.
Culinary Excellence:
A culinary adventure awaits onboard, with a diverse range of dining options, such as Giovanni's Italian Kitchen & Wine Bar, Chops Grille, Izumi Hibachi & Sushi, Hooked Seafood, there is something for to every palate. From fine dining restaurants curated by renowned chefs to casual eateries offering global cuisine, guests can savor a world of flavors at sea.
Revolutionary Accommodations:
The accommodations on Icon of the Seas redefine luxury and comfort. From expansive suites with private terraces to staterooms with panoramic ocean views, every guest is treated to a haven of relaxation and indulgence. All rooms onboard Icon of the Seas will have a balcony. New to the Icon is the Infinite Balcony Room category, which have balconies that can become an indoor or outdoor space at the push of a button.
Thrilling Activities:
Adventure-seekers will find no shortage of activities to satisfy their cravings for excitement. From the FlowRider surf simulators and Rock Wall Climbing to Ice Skating, the ship's top deck is an adrenaline junkie's paradise. New to the Icon is the Crown's Edge – part skywalk, part ropes course, part thrill tide.
Wellness and Relaxation:
For those looking to unwind, the ship offers world-class spa facilities, wellness programs, and tranquil relaxation areas that allow guests to rejuvenate both body and mind. Looking for an Adults-Only place to chill, Cloud 17 is tucked away on the top deck a multi-level whirlpool and private access to The Lime and Coconut bar.
In the eagerly awaited early months of 2024, the Icon of the Seas will make its debut, inviting travelers to embark on a journey filled with excitement, luxury, and boundless adventure. As we anticipate the launch of this iconic cruise ship, be sure to stay tuned for more updates and insights into the extraordinary world of the Icon of the Seas.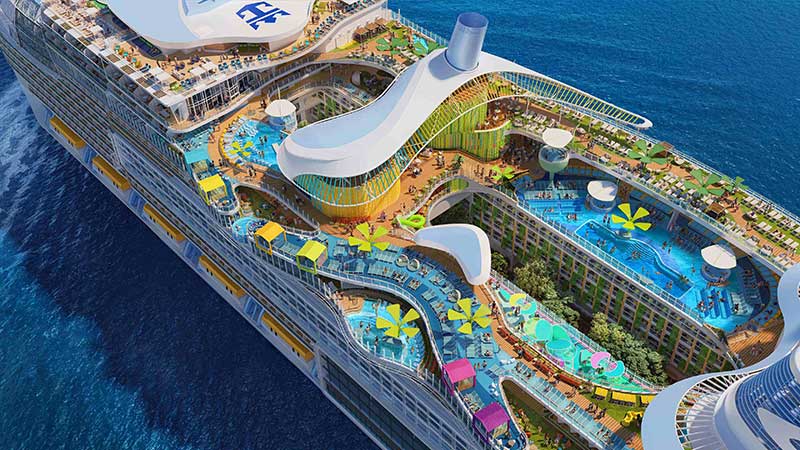 Icon at a Glance
Capacity : 7600
Number of Passenger Decks: 18
Suites: 179
Balcony Staterooms: 1815
Ocean View staterooms: 276
Interior staterooms: 535
Pools: 7 and the Largest Waterpark at Sea
40 Ways to Dine and Drink
8 Different Neighborhoods:
Thrill Island
Chill Island
Suite Neighborhood
Surfside
AquaDone
Central Park
Royal Promenade
The Hideaway
Itineraries:
7-Night Western Caribbean & Perfect Day from Miami
Ports of Call include: Roatan, Honduras, Costa Maya, Mexico, Cozumel, Mexico and Perfect Day at Coco Cay, Bahamas
7-Night Eastern Caribbean & Perfect Day
Ports of Call Include: Phillipsburg, St. Maarten, Charlotte Amalie, St. Thomas and Perfect Day at Coco Cay, Bahamas