As to Disney artwork, logos, and properties: ©Disney
Board a Disney cruise and step into a world where fun meets relaxation and wishes really do come true.
Enter a world where wishes come true. Where princesses meet pirates, where heroes meet destiny and the most fantastical, magical things can happen. Disney Wish, the newest ship from Disney Cruise Line, brings to life the spectacular worlds and beloved Characters from Disney, Marvel, Star Wars™ and Pixar like never before.
Step aboard and experience enchantment everywhere you turn. Meet world-class dining designed by award winning chefs, one-of-a-kind Character experiences where you get to be a part of their story, spectacular Disney entertainment and calm, tropical relaxation all aboard one ship.
Be transported to the worlds of Arendelle, Marvel and Star Wars™ at spectacular dining and lounge spaces, walk in the shoes of an Imagineer or meet favorite Characters, royalty and heroes at cool kids' clubs, rest and relax at adult exclusive spaces and take a ride on the cartoon side at the first ever Disney attraction at sea.
On Disney Wish, dreams really do come true.

Contact us today to learn more about a Disney Cruise Line vacation!
A Disney cruise brings families together to create long-lasting memories with original, musical live shows, spectacular fireworks at sea, incredible destinations like our private island and so much more.
Let us help you make the most of your magical vacation – leave the planning to us – relax and enjoy your vacation!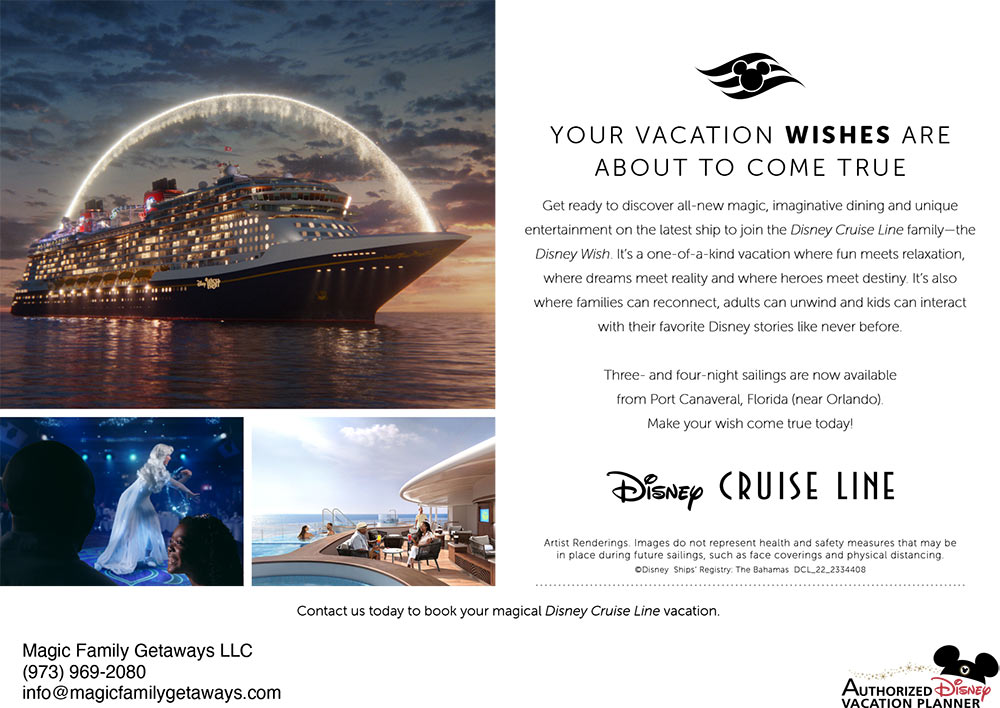 Who We Are
Magic Family Getaways is a Montclair, New Jersey based, family owned, travel agency specializing in family travel and Disney vacations.
At Magic Family Getaways we plan and design unforgettable vacation experiences for families who want the confidence that every step is handled.
We're an Authorized Disney Vacation Planner. Our travel agency's knowledge of Disney products has earned us the distinction of being named an Authorized Disney Vacation Planner. We were given this special designation by Disney as a result of our agency's ongoing focus and commitment to planning customized, magical trips to the Disney Parks, Disney Cruise Line and other Disney vacation destinations worldwide.
Our team of expert advisors can save you time and money and attend to the smallest detail so you can focus on creating memories that last a lifetime. Contact us today to get information and rates on your magical Disney Cruise Line vacation from NJ's award-winning agency for Disney destination travel.